Lori Sherritt-Fleming, co-author of aRHYTHMetic (Gumboot Books 2009, Tickle Trunk Publications 2011) and the French translation, aRYTHMetique (Gumboot Books 2009, Tickle Trunk Publications 2011), is available for author visits locally, nationally and internationally. For more information about Lori, see lorisherritt.com. See also her one-page author-visit brochure.
Bilingual presentations are available upon request. Having been trained as an actor, Lori's presentations are lively, interactive and highly engaging. She specializes in large audiences and is equally adept at creating intimacy at smaller gatherings. Entertaining, energetic and educational are all descriptors audiences use in reference to her author visits. Her witty presentations are multi-modal incorporating aspects of visual art through the presentation of an original draw and tell story, music through songs she has written and recorded to enhance the text of picture books and dramatic extensions, where audience members are selected to act out some of the poetry from her book, aRHYTHMetic. Students make meaning actively, and are exposed to many genres of writing throughout. Audiences are riveted by Lori's accounts of where she finds inspiration for her stories and are challenged by her to connect personally to the literature they read. High praise has been given to Lori for the diversity of her repertoire, and how she actively models in the presentation how inspiration can be found in art, drama and music. Students are encouraged to apply their own spin on the genres that Lori explores and are given tools throughout to strengthen their abilities to 'write their own world.'
See also Tickle Trunk in Your School, read more about aRHYTHMetic, and contact us to set up a visit.
Kari-Lynn Winters and Tiffany Stone are also available for author visits: see www.kariwinters.com/author-visit and www.tiffanystone.ca.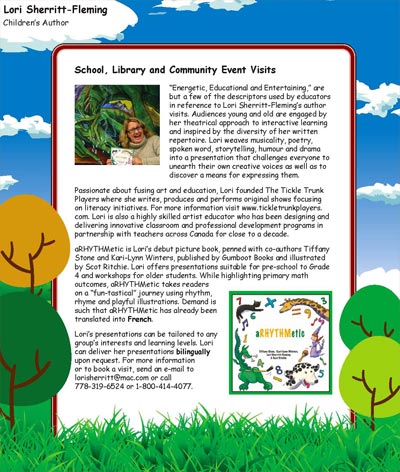 click for PDF