Kloshe'nem: "Legendary" School Wide Cultural Experience Program
Helping Students Learn By Weaving Aboriginal Tradition, Art and Culture Into the Classroom Experience
About
Kloshe'nem: The Weave Project actively models how you can facilitate a legendary, school or classroom cultural experience that promotes literacy, personal voice, respect, learning and a strong, healthy, sustainable future by working together through unity, education, integrity and art. Expert and experienced artist educators, Anastasia Hendry and Lori Sherritt-Fleming will take you on a journey in this hands on workshop where you will learn and actively employ First Nations traditional protocol, storytelling, drama and visual art techniques which reach out to audiences of all learning styles. Participants will use drama to create a retelling of a First Nations story and construct and employ masks using the patterns of the Haida tradition, all the while learning actively about Aboriginal protocol. Handouts will be made available on line. This workshop offers great enhancements to any unit on First Nations, literacy, art or drama curriculum.
Weave brings authentic Aboriginal traditions into schools with a highly skilled team of experienced artist educators. The unique and highly effective Weave program offers a complete school immersion in Aboriginal culture, traditions, etiquette and protocol.  Students and teachers are exposed to a creative process where they learn hands on skills and acquire knowledge of many art forms including Visual Art, Drama, Storytelling, Creative Writing, Dance and Traditional Food Preparation. As in First Nations culture, these art forms will culminate in a community performance to be shared with family and friends. Weave supports a strong, healthy, sustainable future by working together through unity, integrity, education and art.
Audience: K-7
Instructors:
Lori Sherritt-Fleming: Lori comes from a line of Irish ancestors known as the Seanchai (sha-na-khee), or great storytellers. A published author, playwright and actor, she founded and produces shows with the Tickle Trunk Players, a company that is a catalyst for its audiences attaining a life long passion for greater literacy.  She has performed twice at the Vancouver International Children's Festival. A renowned artist educator, Lori has been leading workshops and classes, fusing art and curriculum across Canada for over 14 years. Lori, along with Anastasia Hendry, is one of the founding members of Kloshe'nem or Weave Collective's  "Legendary" School Wide Cultural experience.
Anastasia Hendry: Anastasia is a member of the Haida First Nation and was born in the territory known as Haida Gwaii. She has lived on Coast Salish territory most of her life.  Her environment, surroundings, culture and traditions are integral to her as an artist.  Her art expands beyond traditional forms and helps viewers to understand that North West Coast art is continually evolving. She has been an art educator for 15 years, increasing and elaborating on First Nations knowledge and is a founding member of the Weave or Kloshe'nem Collectives,
For more information, email kloshenem(at)gmail.com or weavevancouver(at)gmail.com
Click on the images below for the two-page brochure.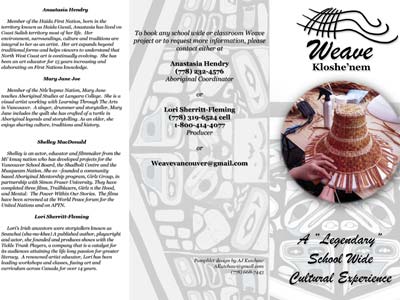 page 1 (click to view)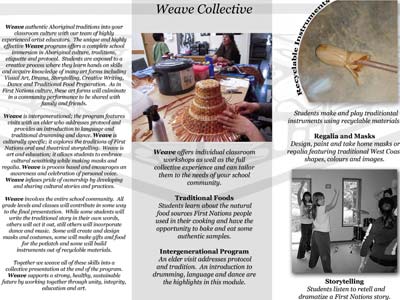 page 2 (click to view)